It is our intention that there is openness and strong relationships between all tiers of governance. All minutes are distributed to all governing bodies within the Trust and its associate members. Governors from LGBs may attend any other meeting including directors should they wish although certain confidential matters may require their withdrawal for that item
The Board
The Board of Directors meets formally three times during the year. The term of office for any Board member is four years and thereafter they may be re-appointed.
The Board has appointed three sub-committees whose responsibilities cover:
• Internal controls and risk management
• Compliance, whistleblowing and fraud
• Policy review
• Internal Audit
• External Audit and statutory financial reporting
The Standards Committee whose responsibilities cover:
• Supporting the Local Governing Bodies in their scrutiny of the school and holding the school to account
• Ensuring the relationship between the Board and the LGB is strong
• Ensure the Board knows its school well
Openness and transparency: It is our intention that there is openness and strong relationships between all tiers of governance. Governors from LGBs may attend any other meeting should they wish, although certain confidential matters may require their withdrawal for that item.
Local Governing Bodies  
The Trust is committed to Local Governing Bodies with full delegated powers that give the LGB the purpose of scrutinising the work of the school and holding it to account. We are fortunate to have excellent Local Governing Bodies, peopled by governors who are highly skilled and committed to their community. It is important to have parent-governors from the school to reflect the views of the parent body and bring a valuable perspective to the work of the Trust. We believe this is important for the role schools play in their own communities.
Where a school is Good or Outstanding and operates within budget, the LGB have fully delegated powers and the budget is recommended to the Board by the LGB for approval.
For schools with RI/Inadequate judgments or where a school has not balanced its budget:
• No budget spending over £5000 can be made without the Trust Business Manager and the Board's agreement
• Decisions over staffing, recruitment and deployment will be taken by the Head but will need approval from the CEO.
• LGBs will be responsible for identifying and escalating issues and risks to the MAT board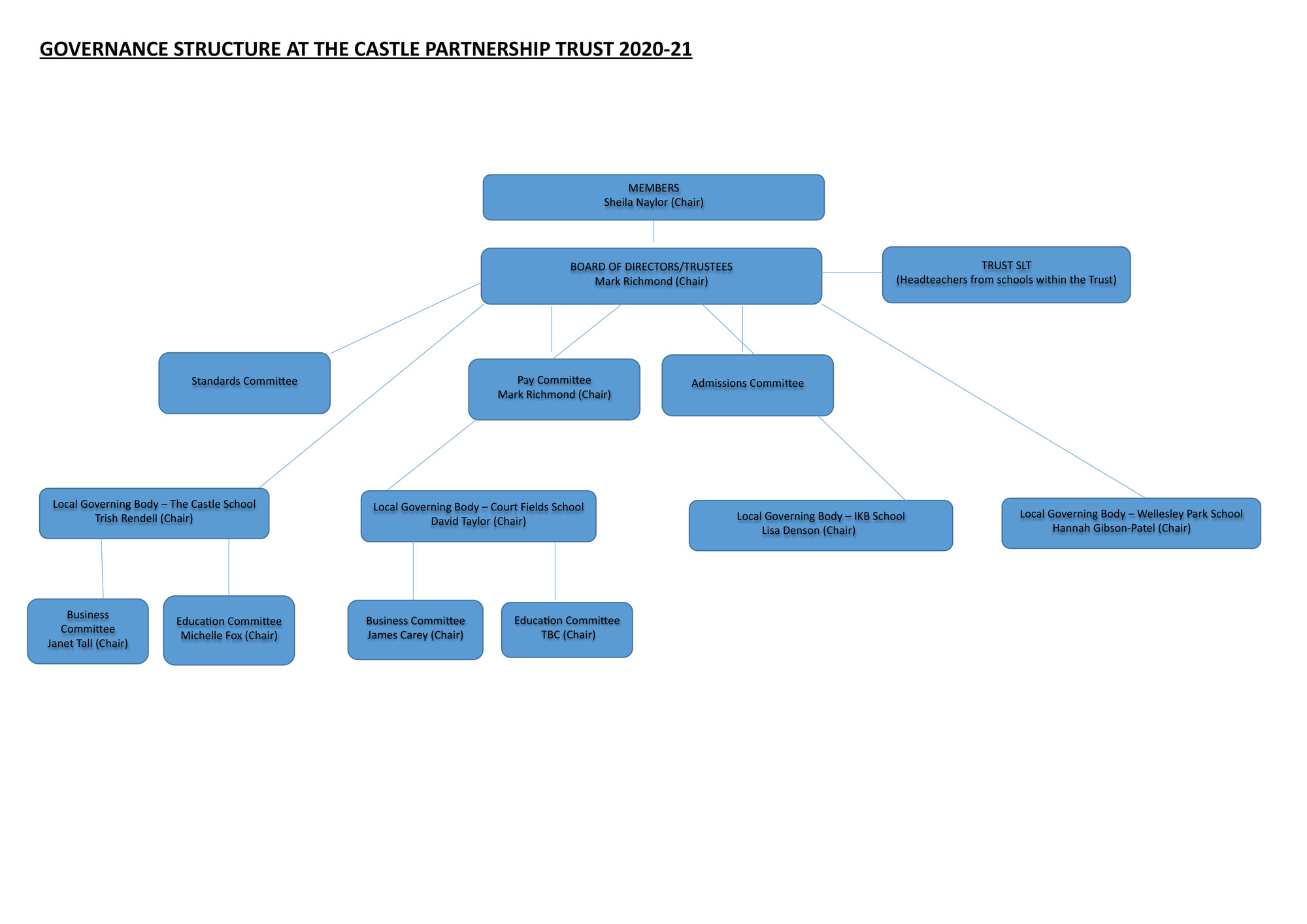 The Headboard/ Headteachers' committee
The Headboard constitutes all the Headteachers of the MAT and its Associate members, including schools which intend to join the Trust in the future. This group is accountable to the Board and carries out 7 key functions:
Agrees allocation and deployment of any shared human resources to support all members of the Trust (e.g: TAs, cover supervisors, premises staff etc).
Directs the Teaching School in supporting improvement in the quality of teaching and learning, in the organisation of INSET days, in moderation and standardisation of work both in each year group for primary, subject for secondary and at each transition point.
Critically evaluates data from each school and deploys school improvement.
Holds each secondary school to account for the progress of learners from each primary school.
Holds primary schools to account for the standards of learners on transition to secondary.
Shares best practice and provides high challenge and high support for Headteachers
Implements decisions of the Board.